"The difference of Benedicta from when she first came here, to what she's showing now, is what we call the 'Spire difference'. Her progress is quite impressive, considering how long she's been here," Krista Phillips, a former WNBL star and current Women's Basketball Management Consultant at Spire Academy said.
Perhaps a perfect synopsis of the burgeoning quality of a 6'2 15-year-old centre, who has dazzled, only four months after landing in the USA as a student-athlete with Spire Academy. And as brilliant as the opening verse sounds, her life has not always been wrapped in the 94x50ft-sized basketball courts.
Her story is far from romantic – more of humble, beginning from a 12-year-old, who did not even have any idea a game like basketball existed in the first place.
"Coach Oxy met me on the roadside and called me," Benedicta told JoySports. "My mom had sent me at the time, so I asked who he was. He simply told me to come and then asked if I could play basketball. I asked 'what is basketball?' and told him I don't know what he's talking about."
Pretty mind-boggling, but who can fault her? She grew up at Dansoman last stop in Accra – a locality dominated by trading, fishing and then, football – she was her school's goalkeeper at a point. There was [and still is] almost no, or very little space for an 'idea' like basketball.
In fact, there are very few spaces available to bounce or even throw a ball – the basketball way – with every acre of space occupied by homes, businesses or transformed into very sandy football parks. And, it is from such a zero-tolerance community Benedicta has grown and now wields dreams of becoming Ghana's first WNBA star.
"I want to be the greatest player of all time. I want to achieve my dream by getting a good college to attend, and then play in the WNBA after."
So in a space of some five years, she has moved from a girl with zero basketball knowledge, to dreaming of starring in the WNBA – one almost exclusive to kids in America and probably, Europe.
Ironic, no?
But on a flip side, that is the beauty of life, and basketball – a sport which has proven to provide many opportunities, and Benedicta's came within that same non-tolerating environment.
Once again, ironic, isn't it?
One sunny afternoon, Benedicta, while running an errand for her mother, was halted by a stranger and asked what she knew about basketball. It was at that moment she delivered the shocking, yet not-so-shocking response: "what is basketball?"
And it was one which surprised her questioner because her height was one which perfectly fit the description of a potential superstar.
"It was her height," Coach Oxy blurted out. "I met her on the street – on the way to see the parents of one of my players. Her height was the first thing which attracted me to call her. I told her I see potential which I think if she develops as a basketball player, can get her to the next level."
So it was that roadside conversation which first paved the way for Benedicta to hoop under the court lights of Ohio.
Prior to that though, there were long days of training, school, hunger – and more training – all in the quest to unearth potential which was nearly blighted.
"The first day I stepped on the court, I was shy because there were so many people on the court who were better than I was," Benedicta recalled. "So I asked [Oxy] how I was going to compete with them, and he told me not to worry because once I was there and he was also there, everything was going to be fine."
"Benedicta got really interested when I spoke to her about the basketball project," Coach Oxy recounted. "And that interest helped her a lot to develop, because when we started with the fundamentals – teaching her the rules – she developed faster.
"She was [also] really consistent with training, and that helped me develop her quicker. She'll train today and tomorrow she wants to come back. She'll ask if there's training and if there isn't, she'll tell me she wants me to meet for a one-on-one session. In the beginning, I had challenges teaching her basketball, but her passion, zeal and consistency helped a lot.
"She was the most improved player, in the first year she came to Charm."
"There were days I couldn't even eat before going for training so I decided to stop basketball to avoid dying at training since I couldn't get food to eat. So coach Oxy used to encourage me, assured me everything was going to be fine, before giving me money to go and get food," Benedicta narrated – almost on the brink of tears.
It is safe to assume Oxy could see something many couldn't in the 6'2 schoolgirl. She was constantly picked on at school by classmates, who ridiculed her for 'wasting time on basketball', instead of finding an after-school job to help her mother who was struggling to take care of her.
And maybe, it was that struggle to make ends meet, which blinded that same mother – who did not want her daughter to have anything to do with the sport.
"I didn't like her playing basketball," Benedicta's mother said. "I wanted her to focus on school, go to senior high school and then go to university. I wanted her to join the immigration or pursue any other office career."
So the basketball quest became a tussle between mother and daughter at home, with Oxy, more than occasionally, having to serve as middle ground.
"We were always fighting about basketball – every morning and afternoon," Benedicta said in recounting how her mother wanted her to focus on only school and helping out at home. "My mom used to complain a lot about me always going for training and not learning. At one point, she even decided she wasn't going to let me go for training and I started crying. She told me if I didn't want to go to school, I was going to stop the training as well. I told her I would still go to school but I needed to be at training once school closed.
"But she then said I had to help her in the house because we didn't have any money. I told her I knew but she doesn't know what God can do for us, and reported to coach Oxy. He asked that I leave it to him because he was going to handle it."
"I had to go to her mother one evening so I could sit her down and explain things to her. Told her what I was doing is education and basketball, that I am not just focusing on basketball. So her desire to see her child have a good education is in line with what I'm doing. Basketball could help her earn an opportunity to further develop as a player and get a good education internationally," coach Oxy said.
Eventually, all that convincing, tussle and hustle, will bear fruit, with Benedicta receiving a student scholarship offer to the USA. It had all finally paid off, and the once-bickering family were now all snuggly.
"I didn't believe [when I heard of the scholarship], because I doubted I could play basketball and I knew that the kids in the USA were better than I was, but coach Oxy asked me to stop doubting myself.
"So when I got home, I told my mom and she started crying. I asked her to stop – I am taller than her so I hugged her – and requested we pray instead, so everything goes as planned. I was very happy but also sad at the same time because of what I've been through," Benedicta said with bags of laughter, after remembering how her mother's head was beneath her armpit after pulling her in for a hug.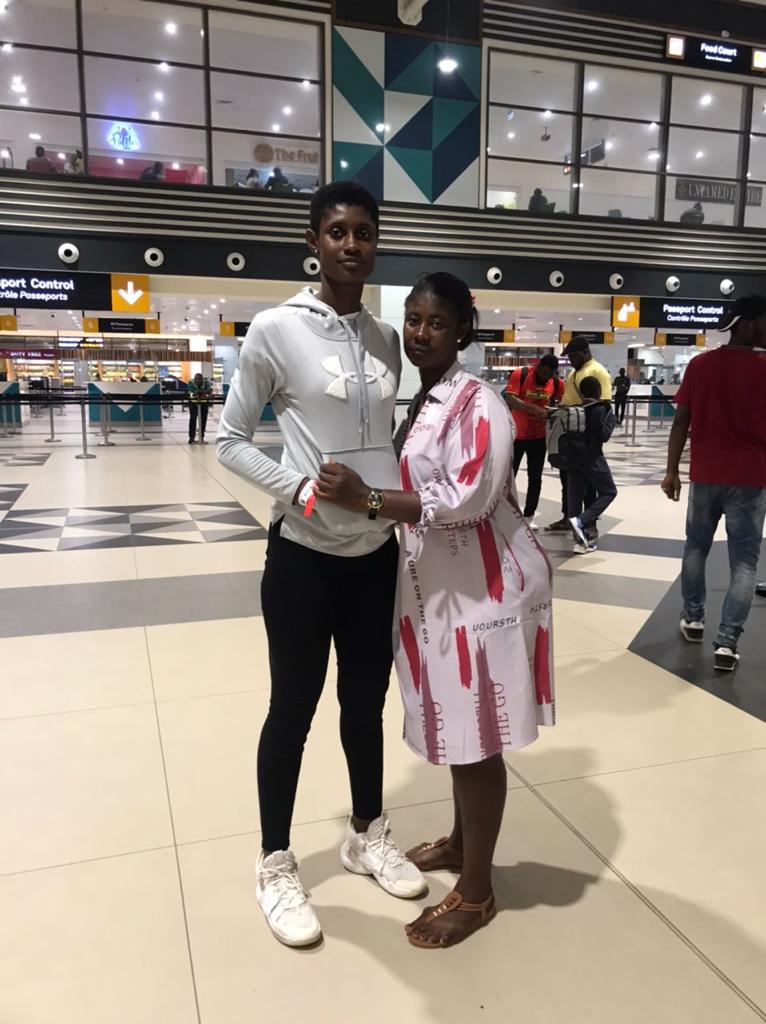 A fairytale ending to a story far from its climax. Finally, Benedicta had made that big break into the USA – the home of basketball, and as sweet as that sounds, it was at that point her rather late start proved to be a potential stumbling block.
"Typically, we find all of our international student-athletes raw," Phillips indicated. "Here in America, you're playing basketball from a very young age, but this is only the third year for Benedicta – and that's not super common in North America. I started playing at age 6.
"Obviously we brought her over because there is potential and that is what we are confident we can provide at Spire – the training necessary to take good athletes and make great athletes."
She landed in the USA when she was only 14 of age – chasing a dream, and eventually becoming 'a girl amongst women' – as Candice Wiggins, a former WNBA star and the current director and head coach of women's basketball at Spire put it.
Benedicta is also without her huggy mother, as a result, she has had to learn and adjust quickly, and all the teasing and mockery by classmates back in Ghana was satirically going to prove gemmy.
"No," was her simple response when asked if she felt the young African girl needed to prove she deserved her spot on the team. "I am someone who doesn't let things bother me, so long as you are not beating me, I don't care. You will think you might know how to play better than I do, so decide to maltreat me.
"I'll just look at you and always pray to get better."
So with that budding fighting spirit, and only three months after stepping out on the courts of Spire Academy, Benedicta has started shaping into a steal, and even she admits she is "sometimes" surprised by the progress she has made.
"My layups have improved. In Ghana, I did not know how to layup, it's either I travelled or got the ball stolen."
The 15-year-old, who before age 12 had no idea basketball even existed, and had to almost battle her mother and hunger before she could make it for training in Accra, now she understands proper layup technique and is currently one of the brightest talents at Spire – with progress almost too true to believe.
"Benedicta is tall, so she's going to end up playing in the post, and the biggest part of her development has been in learning the post play. I was in a very similar situation when I went to college, because when you are tall, you don't always play against people who are tall.
"Benedicta can catch and shoot – and she has a nice shot – but she's never had to work hard to create space and learn post moves. So in the past month, we have been teaching her how to play in the post," Krista said about her development.
Could it be a fetch to describe her story as a rise? Probably not, if it is put into context. But considering her desire to hit the WNBA, maybe, it could be too early a call.
However, she currently calls Spire home, and it was the same adjective Charlotte Hornet's Lamelo Ball ascribed to the Ohio-based institute, before making the big NBA jump.
"Anything is possible, Benedicta is in a unique situation where she is tall, and that changes a lot of opportunities. Everyone is always looking for height; because you can find a 5'4 guard everywhere – that is popular. But what isn't is very tall post players, so Benedicta has a very unique opportunity. So it's going to be how hard she wants to work in order to make her dream happen," Krista said in her analysis.
"I was not surprised when she received the scholarship offer, because I felt she is someone who will go very far. I see Benedicta in line with her dream, she's in a great program out there in the States. What they [Spire] say is 'Fuel your passion', so that is what they do. They will help her develop, earn a college offer and from there she will get to the professional league – the WNBA."
Source: Mishael Quaynor
DISCLAIMER: The Views, Comments, Opinions, Contributions and Statements made by Readers and Contributors on this platform do not necessarily represent the views or policy of Hondy Multimedia Group of Companies